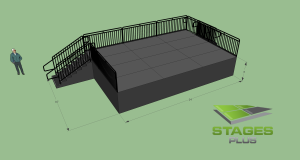 Determine stage size by clicking one of the popular stage size links below (3D renderings)
Determine when and where you need the stage setup and torn down.
Give us a call at 407-442-0254 or fill out the form below for assistance.
We can provide a stage of any size, even enough staging for an entire football field! Not everyone needs a stage that size, however if the stage you need is not in the above listings, let us know so we can still help you.