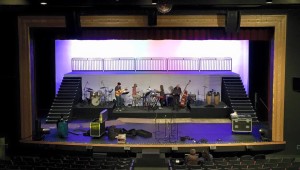 We can provide performance staging rentals for theatres looking to enhance their performances. Stages can be setup in any configuration with our modular stage decking under structure from Staging Concepts.
We use cross beam under structure on heights 3ft and above, up to 9ft tall. We can provide heights taller than 9ft if the footprint of the stage is large enough.
Our step units are modular as well, creating landings and the use of hand rails where needed.
Most setups do not require custom work, however if custom work is needed, it is easily accommodated.
We provide 3D renderings at no cost so you can see your vision.
Give us a call at 407-442-0254 or fill out the form to the right to contact us today.